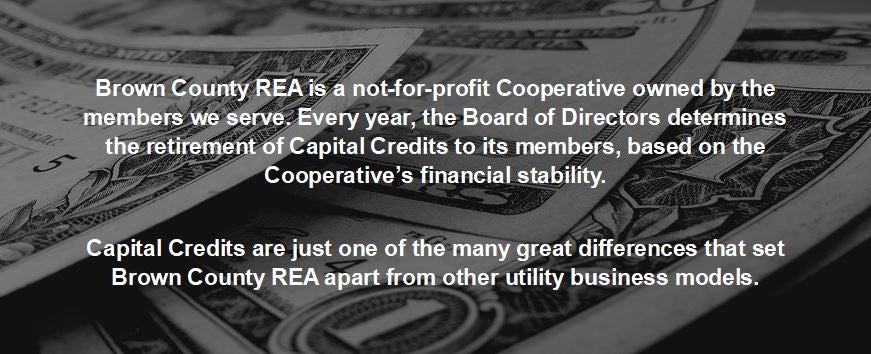 Capital Credit Information
Capital Credits can also be referred to as "patronage capital." Each year's margins are allocated to Members based on the amount billed per Member for electric purchases and the associated margin during that year. This allocation is credited to a Capital Credit account for each Member until the credits are paid (retired).
Operating margins left over at the end of the year are allocated, or assigned, to a Capital Credit account (separate from your electric account) in your name based on the amount of energy you purchased (patronage).
Your Capital Credit account is similar to a savings account; it is an accumulation of margins which have been allocated to you each year based on your patronage.
Each year the Board of Directors determine if Capital Credits will be retired. Capital Credits retired are received in different forms. If you are an active member you will receive a credit on your bill if under $100 or a check if it is over $100. If you are a former (inactive billing account) you will receive a check if it is over $100.
An allocation is made annually for each member based upon the amount of electricity purchased the previous year. These allocations are set aside in a separate account to be used as operating capital for safety and reliability improvements for the Cooperative over a period of years. 
A retirement is the payment of Capital Credits that have been allocated previously.
After the margins have been allocated, the funds are then used as capital by the Cooperative to build and maintain the electric infrastructure used to deliver power to each member. The funds are also used to improve the safety and reliability of your electric service. Upgrading poles, wire, transformers, and substations are included in the maintenance costs.
Also, by us retaining Capital Credits for a period of time it reduces our need to borrow money which in turn helps us save in interest costs.
Your Capital Credit Balance will remain with us until the balance is paid (retired) in full.
You are responsible for maintaining a correct mailing address with us for any future payments.
If you pass away before your Capital Credits are paid your estate's executor will need to contact our office to complete the necessary paperwork.
Active Electric Accounts: the account must first be closed out and paid in full. Contact the Cooperative for further details.
Inactive Electric Accounts: a copy of the death certificate and legal documentation from the estate or a completed Affidavit for Collection of Personal Property provided by the Cooperative will be required.
The Board of Directors generally authorizes a general retirement of Capital Credits in November or December of each year.
Helpful Definitions
As a recipient of electrical service from Brown County REA you are a member-owner.
The cost to build, maintain, and repair the electric system (poles, wires, substations, etc.).
At the end of each year, Brown County REA subtracts operating expenses from the operating revenue collected and the difference is called operating margins (margins).
When margins are assigned to a member's Capital Credit account.
Your annual patronage is the amount of money you paid for electricity that year.
A payout from your Capital Credit account.
These are the Brown County REA Capital Credits that reflect your ownership in the Cooperative.
Brown County REA purchases power from Great River Energy (GRE) and these Capital Credits reflect the allocation made to Brown County REA from them. Brown County REA allocated a portion to each member every year.
Update My Information
If you move or no longer have electric service with Brown County REA, please let us know your current address and phone number so that future Capital Credit disbursements can be mailed to you.
Even if you are no longer a member there will be Capital Credits in your name for the years you were a member of the Cooperative until they are fully retired.
Fill out the form below to notify us of your updated information.